Blockchain-related startup G.U. Technologies raises a total of 101 million yen in funding
G.U. Technologies, Inc. (Headquarters: Shibuya-ku, Tokyo, CEO Daimei Inaba and CTO Hidekazu Kondo), a blockchain-related startup company, announced today that it has completed a seed round of funding totaling 101 million yen, mainly from private investors.
Background of the fundraising
G.U. Technologies, Inc. has been working with G.U. Labs, the parent company of the Lunascape web browser, to develop a new blockchain technology based on the results of its blockchain research. In October 2020, G.U.Technologies will spin out of G.U. Labs and become a start-up company with the aim of implementing next-generation innovations using blockchain in society.

G.U. Technologies, Inc. recently completed a seed round of funding totaling 101 million yen within 7 months, with the aim of strengthening its product development and promotion structure, and with the support of many individual investors, including prominent startup founders.
On August 10, we released the official version of our first product, "G.U. Blockchain Cloud," as a Service (BaaS) that allows anyone to easily build a blockchain. Several companies, including major content companies and promising startups, have already decided to adopt the product, and we plan to raise the next round of Series A funding by the end of the year to further build our service infrastructure and strengthen our sales activities.
The first "G.U. Blockchain Cloud" in Japan
"The G.U. Blockchain Cloud" was developed with the aim of providing a cloud service that enables anyone to easily and inexpensively build Ethereum-compatible private chains and consortium chains, which are becoming the world's standard blockchain development infrastructure.
By introducing this service, companies, mainly in the enterprise blockchain field, will be able to significantly reduce the cost of building and operating their own blockchains, and will be able to promote a blockchain business that they can safely control while benefiting from the Ethereum ecosystem. In addition, they can benefit from the Ethereum ecosystem and promote their own secure and controllable blockchain business.
There are already several companies using the blockchain for transactions that require anonymity and high speed, which are unsuitable for open chains, and for private chains, which do not require transaction fees.
In the future, we expect to see the adoption of the blockchain not only by the financial industry, where DeFi (distributed finance) is gaining momentum, the entertainment industry, where NFT is gaining momentum, and the IT industry, where it is expected to be used for traceability and logistics management, but also by all large corporations and venture companies that are planning to settle cryptographic assets or issue their own tokens.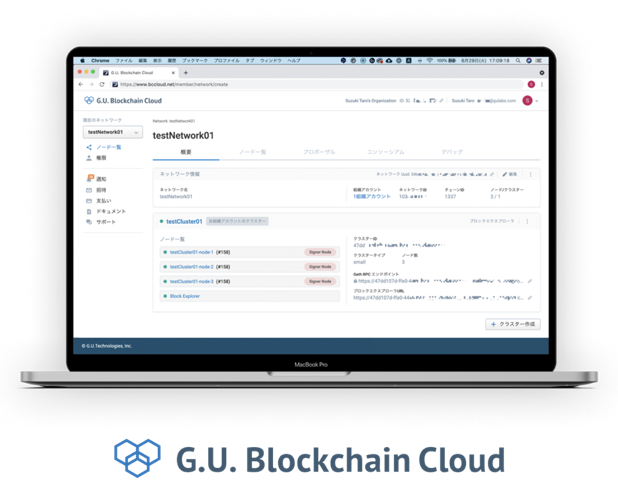 3 Features of G.U. Blockchain Cloud Feature
Feature 1: Easy initial introduction for anyone
With a little learning, anyone can start using blockchain in 3 simple steps.
It is also possible to immediately build a chain with high performance and security for operation in a production environment.
Feature 2: Operability and full support after introduction
The user-friendly UI/UX allows anyone to easily and graphically check a variety of information. In addition to post-installation support, we provide a full range of solutions and support for blockchain business and development.
Feature 3: Achieve Low cost
It is possible to build an operational blockchain at the extremely low price of $49~ for a small node. It is possible to build and operate a blockchain for about $558/month for a standard development configuration, and about $1,000/month for a production environment.
Launched G.U.net, a website for blockchain experience and information dissemination

In order to contribute to the promotion of blockchain development, we have opened "G.U.net", a testnet and content distribution site where interested developers can immediately experience blockchain development. G.U.net offers G.U. Sandbox Chain, which allows users to experience distributed application development (DApps) such as NFT and DeFi (distributed finance) on Ethereum compatible blockchains, and will also provide various blockchain-related information.