We, G.U. Technologies, Inc., a blockchain-related startup (Representative Directors: Daimei Inaba and Hidekazu Kondo) have raised 260 million yen in pre-series A funding from Coral Capital and Shizen Capital LLC.
We are pleased to announce that we have completed a total of 361 million yen in funding.

With this financing, we will strengthen our development efforts to provide solutions in each domain such as Web3 area, including NFT, and the enterprise blockchain and fintech, including stablecoin.
◽️Funding Background
G.U. Technologies, Inc. was founded by Inaba, who has a background in finance and fintech, and Kondo, founder of the Japanese web browser Lunascape, has G.U. Labs, the parent company of G.U.
Based on the results of blockchain research, the company will spin out from G.U. Labs in October 2020.
A startup company established to solve social issues through blockchain technology. The company is a Japanese company that has been in business for more than 20 years. 

The new product development and promotion system for the Web3 domain and enterprise blockchain Coral Capital and Shizen Capital LLC have invested 260 million yen in the pre-series A funding totaling 361 million yen within 14 months of the company's founding, with the aim of strengthening the company. The Company has completed the acquisition.
In the globally expanding Web3 domain, especially in the Ethereum field, scaling solutions, the use of Layer 2 and sidechains as a solution is expanding.
Our G.U. Blockchain Cloud is a unique Ethereum-compatible Layer2 blockchain that anyone can use easily. The solution can be easily built and is being used by a wide range of companies.
In addition, the Ethereum wallet for Google Chrome with DApps support is available for the first time in Japan as a peripheral tool.
(Lunascape Wallet) has been developed and released.
The future of the Ethereum-compatible Layer2 consortium blockchain for enterprise and various demonstrations including stablecoin, DeFi, and NFT for the Web3 era.
In addition, we will promote experiments with our partners, and also support our customers' blockchain businesses.
We plan to provide infrastructure, tools, consulting, and development support.
◽️Comments from investors
・Mr. Ken Nishimura, Partner and Editor-in-Chief, Coral Capital Inc.
Although blockchain technologies have been expected to be implemented across a number of areas, it has not been sufficiently utilized in the enterprise domain due to scalability and governance issues. CTO Kondo has deep technical insights with a stellar track record as a tech tech entrepreneur, while CEO Inaba, a seasoned veteran in the finance industry in Japan, has worked with key players in banks. We are confident that this combination is ideal and they will bring innovation based on blockchain technologies from the Japanese market.
---
・Mr. Mark Bivens, Managing Partner, Shizen Capital LLC(already confirmed by Marc)
At Shizen Capital, we're actively exploring innovative Web3 projects in Japan. Accordingly, we're thrilled to co-invest alongside Coral Capital into Kondo-san and the GU Tech team. Their deep expertise in crypto and blockchain technologies, together with their experience building both consumer and enterprise tools, presented a compelling opportunity to back a team with transformative potential.
◽️G.U. Group Product Development
・「G.U.Blockchain Cloud」
The G.U.Blockchain Cloud is becoming a global standard blockchain development infrastructure.
The first cloud service in Japan that enables anyone to build an Ethereum-compatible Layer 2 sidechain "easily and at low cost".
The service is a cloud service. The introduction of this service is expected to help the enterprise blockchain
The Ethereum ecosystem benefits from the speed and privacy of the
The Ethereum-compatible sidechain can be easily built.
The system has already been implemented in many cases where anonymity and high speed are required, which are not suitable for open-type chains.
transactions, high-speed transactions, and low or no fees.
The blockchain has been recognized for its blockchain-based point system, NFT infrastructure, and auditability.
The use of this technology is progressing in a variety of use cases, such as database construction for the purpose of improving
The company is also working on the development of a new business model for the future.
In the future, the web industry will be on the rise in the Web3 era, and the financial industry will be on the rise in the DeFi (decentralized finance) era.
industry, the entertainment industry where NFT is gaining momentum, and the traceability and
supply chain industry, which is beginning to use them for flow management and other purposes.
We expect that the number of customers will continue to grow.
G.U.Blockchain Cloud:https://www.bccloud.net/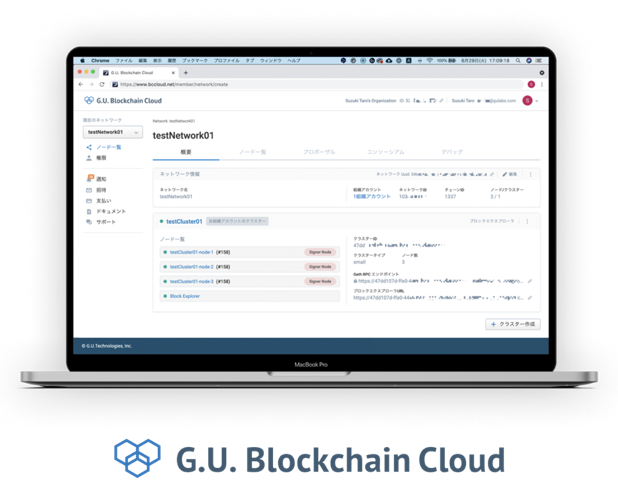 ・「Lunascape Wallet」
The Lunascape Wallet is an Ethereum wallet with an easy-to-use card-type UI that allows users to easily execute content transactions on DApps-enabled websites.
The wallet is compatible with the three major test networks as well as custom networks (Mainnet, Ropsten, Rinkeby, Kovan, etc.).
Since it is developed in Japan, it complies with Japanese laws and regulations, and support can be provided in Japanese. Also English support is always available.
It can be easily extended with Google Chrome, and multiple accounts can be created and switched easily.
Currency management functionality for each sidechain is standard.
The system is designed to be compatible with Ethereum's "ERC20 compatible" tokens.
The system allows for the addition of new currencies, which can then be sent and received. Arbitrary tokens can also be added, allowing It can also be used for development testing and private token trading.
Lunascape Wallet:https://www.lunascape.org/wallet
・「G.U.net」
We operate a blockchain development experience and information dissemination site.
A test net that allows interested developers to immediately experience blockchain development in order to contribute to the promotion of Web3.
(G.U.Sandbox Chain), for the purpose of disseminating content in the Web3 area, we are disseminating various information related to Web3.
In the future, we plan to operate an enterprise-focused consortium
and developer community, and to develop a world-standard
We are building a world of blockchain and Web3.
In this new era of digital revolution, where finance and information converge
a society where everyone is free and happy with rich ideas and solid technology to create a society through the blockchain.
We will continue to solve problems.
G.U.net:https://gu.net/