~The Lunascape Wallet for Chrome is an Ethereum Wallet that supports DApps (Distributed Applications)~
G.U. Labs Inc. (Headquarters: Shibuya-ku, Tokyo, CEOs: Hidekazu Kondo and Daimei Inaba) today announced the release of Lunascape Wallet for Chrome (hereinafter referred to as "Lunascape Wallet"), a wallet that supports DApps (decentralized applications) running on Ethereum, on April 30.
By using Lunascape Wallet, users can easily send, receive and manage Ether and ERC20 tokens, which are currencies on Ethereum, as well as trade cryptocurrency with Ethereum-enabled NFT tokens and DeFi (decentralized finance) websites on the Google Chrome browser. This can be done easily in the Google Chrome browser.
◽️Overview
In recent years, blockchain-based NFT tokens and DeFi (decentralized finance) have been gaining momentum, and DApps (decentralized applications) on Ethereum, an engineer-friendly blockchain infrastructure, have become increasingly important.
However, until now, DAppss-compatible wallets for using DApps applications have had many issues in terms of user-friendliness, and those that work as browser extensions have mostly been made overseas, so there have been no web browser extension-type wallets that can be used safely in Japan, as corporate support in Japanese is not available.
Lunascape Wallet features a card-type UI that is easy to understand even for beginners. Lunascape Wallet was developed in Japan, so it complies with Japanese laws, and support is available in Japanese. This wallet operates as an extension of Google Chrome, a web browser provided by Google. In addition, seed phrases using mnemonics are compatible with existing wallets such as MetaMask, so you can easily import addresses. Other features include the ability to create and switch between multiple accounts, as well as blacklist and whitelist functions to protect your privacy.
Lunascape Wallet is fully compatible with all major DeFi websites running on Ethereum, including CryptoKitties (https://www.cryptokitties.co/), Uniswap (https:// uniswap.org/) and Compound (https://compound.finance/). By using such websites, users can purchase ERC20 compatible arbitrary tokens that cannot be handled by Japanese centralized exchanges (Coincheck, BitFlyer, etc.), deposit tokens to earn interest, and experience the latest world where IT and finance are fused. In the future, Lunascape Phoebe will be the first company to offer this service.
In the future, we plan to add support for other browsers such as Lunascape Phoebe, Firefox, and Microsoft Edge, as well as integrate Lunascape Wallet into the existing Lunascape Mobile web browser for smartphones.
Please note that this version is a beta version.
---
Features of Lunascape Wallet for Chrome
Feature 1: Easy-to-use card-based UI
Most conventional wallets manage the network and currency separately.
However, in reality, cryptocurrency and the networks on which they are issued are often one and the same, so we created a card-type UI that allows the handling of currency and networks as one.
By simply sliding the card to the left or right, the user can switch between the cryptocurrency and the target network as one with the card, thus preventing accidents such as accidentally transferring assets on a different network.

Feature 2: Strengths of a domestically produced wallet
Whether or not the assets in a cryptocurrency wallet are protected and whether or not the private key is protected are left to the laws of the country to which the entity developing the wallet belongs. Therefore, it was legally very dangerous to use a wallet made overseas but whose issuer was unknown or whose developer was anonymous in Japan.
Lunascape Wallet for Chrome is developed and distributed by a corporation that complies with Japanese law, so it can be used safely by both individuals and corporations in Japan.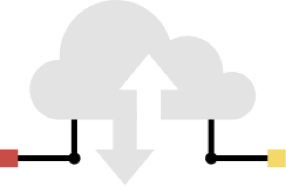 Feature 3: Designed for privacy
With account switching, blacklisting, and whitelist management, you can prevent your wallet address from being published on websites you do not authorize.
---
System Requirements
Latest version of Google Chrome browser(Price: Free / Language: English, Japanese)